Laboratory
We have an IDEXX blood analyzer allowing for blood results the same day. This allows us to run complete blood cell counts and blood chemistry profiles for internal medical problems. We have a wide range of referral labs for other more complicated disease diagnoses.
Wellness Visits
Preventive medicine is the best defense against health issues down the road. We will make individual recommendations based on your pet's needs.
Surgery
We have four general surgeons on staff and a specialist surgeon is on call as needed for more complicated procedures.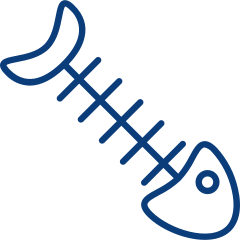 Radiology
Digital Radiology is here to stay. We take high quality diagnostic radiographs for routine survey films to broken bones. We also have a digital dental radiograph machine for state of the art dental care.
Euthanasia
---
Euthanasia is an important and necessary part of a veterinary practice, but a very difficult topic to discuss. We provide euthanasia services by appointment. We strive to provide compassionate and tender care in these final moments. You will have several decisions to make. The first is whether you will stay with your pet while the euthanasia is performed. We encourage you to do so, but understand when this is not possible. This is an emotionally difficult procedure, but rest assured we have all had to do this with our own beloved pets and do understand the hardship involved. The next decision is the disposition of your pets remains. Your pet can be individually cremated with return of ashes, or not. Additionally, home burial is a common option. Lastly, we provide the option for a clay paw imprint for your pet. These options will all be discussed as well at the time of the appointment.
---
Dentistry
---
Dental disease can cause multiple internal health issues including kidney, liver and heart disease. Our goal is to recommend routine dental cleanings to prevent these systemic problems.
Veterinary dentistry has changed significantly over the last few decades. We have state of the art dental instruments to better treat our patients. We use a Midmark Dental unit for ultrasonic scaling, polishing and assisting in extractions of teeth. We also have digital dental radiographs to ensure dental health blow the gum line. This diagnostic tool is a very important part of making decisions about individual tooth health. We do not do endodontics (root canals and crowns,), however can refer your pet to a veterinary dental specialist that provides this service.
---
Therapeutic Laser
---
Class IV Laser Therapy
In January 2011, The Kindness Animal Hospital added Laser Therapy by purchasing a Class IV laser from Companion Therapy Laser. Class IV Laser therapy provides a pain-free, surgery- free, drug-free method to treat injuries, wounds, fractures, neurological conditions, numerous dermatological problems, and pain, both acute and chronic. We use the laser on all post-surgical patients, where appropriate, to help the healing process.
---
The Science Behind Laser Therapy
This FDA cleared, deep-penetrating light allows relief of pain through the release of endorphins and stimulates the injured cells to heal at a faster rate. Laser therapy actually stimulates the body to heal from within. Non-thermal photons of light are administered to the body and absorbed by the injured cells. The tissues are then stimulated and respond with a higher rate of metabolism, increased blood flow, an anti-inflammatory reaction, production of the body's own pain relievers (like endorphins) and an overall acceleration of the healing process.
---
Biological Effects of Laser Therapy:
Improved Circulation
Increased Cellular Metabolic Activity
Reduced Fibrous Tissue (Scar) Formation
Improved Nerve Cell Recovery
Stimulation of Acupuncture and Trigger Points
Stimulation of Immune Cells and Removal of Diseased Tissue
---
Disorders that often respond to laser therapy
---
*An appointment is needed for a Veterinarian to evaluate your pet prior to starting Laser Therapy. Treatment itself is usually provided by our Laser Therapy Certified Technicians
---