WELCOME
The Kindness Animal Hospital
---
The Kindness Animal Hospital, originally located in Alton, was established by Dr. Deane M. Chamberlain in the late 1960s. The hospital later relocated to Pork Hill Road in Ossipee, then finally in the winter of 1975-76 the hospital moved to its final location on Water Village Road. In 1981 the hospital was purchased by Dr. Richard M. Seibel, III. Since its inception in the 1960's, The Kindness Animal has grown from a one doctor facility to its current four doctor and eleven employee practice. We welcomed Dr. Susan Haley to the practice in 1995. It wasn't until 2008 that Dr. Tom Adams joined as a third veterinarian, and in 2013 that Dr. Phil Deitsch came as a part-time veterinarian. Both Dr. Adams & Dr. Deitch retiring in 2017. In March 2016, Dr. Lindsay Lord came to The Kindness Animal Hospital as a full time veterinarian. Dr. Seibel sold the practice to Dr. Lord in August 2016.
We currently have 4 practicing veterinarians, including Dr. Lindsay Lord, Dr. Susan Haley, Dr. Marlene Schmidt and Dr. Julie Adams (Coming to The Kindness Animal Hospital in April 2019). Together with our staff of 11 technicians and receptionists, we provide years of veterinary experience to best care for your pets.
"A total positive regard for all" has always been the mission statement of our hospital. This was a favorite quote of Dr. Deane Chamberlain, meaning that we approach our patients and their people with the utmost respect and consideration of their needs.
---
---
5 Water Village Road, Ossipee, NH 03864
603-539-2272
FAX 603-539-3622
tkah.vet@gmail.com Laboratory
We utilize an IDEXX blood analyzer for same-day blood results. We also have access to a wide range of referral labs for send-out diagnostic panels.

Wellness Visits
Preventive medicine is the best practice to ensure long-term health and wellness for your pet. We will make individual recommendations based on your pet's needs.
Surgery
We have four general surgeons on staff and a specialist surgeon is on call as needed for more complicated procedures.
Radiology
Digital Radiology is here to stay! We take high quality diagnostic radiographs for your pet. We also have a digital dental radiology machine for dental care.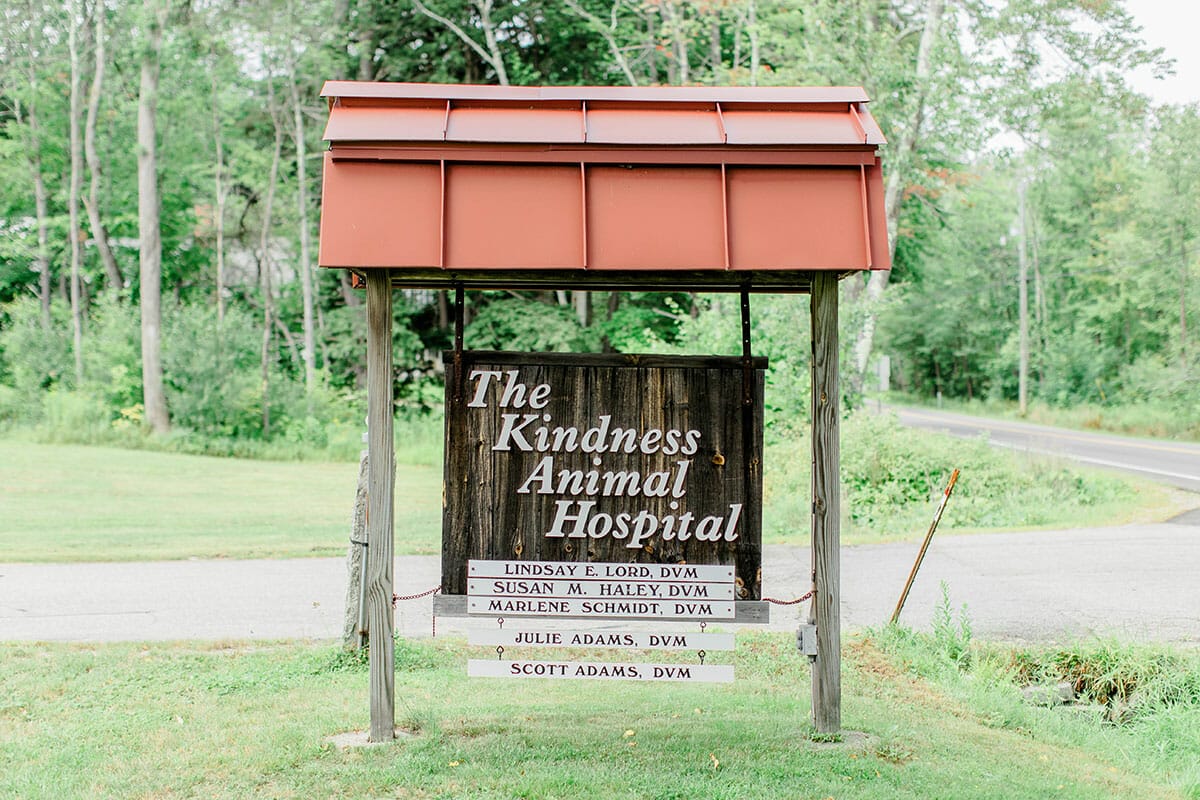 Your pet is
in good hands
---
We're here when you need us whether it's for a routine checkup, a much-needed vaccination, or an emergency. Our facility utilizes some of the most up-to-date equipment and our staff is not only knowledgeable about advanced veterinary techniques, but also possesses an incredible passion for their work. You can rest assured that your best friend is in the best hands.
---
The Kindness Animal Hospital
---